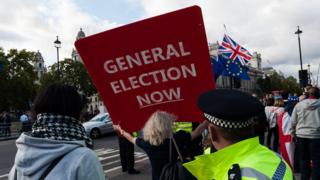 The order paper was blank and the MPs weren't even supposed to be in Westminster.
But the day after the Supreme Court ruled that Boris Johnson's suspension or suspension of Parliament was "null and void," the House of Commons cockpit was full again.
Against each other was angry opposition claiming they had been illegally dismissed from their jobs, and an unrepentant government believed the court had wrongly intervened and compromised their key promise to complete Brexit.
Eleven and a half hours later, Parliament was described as "as dead as dead can be". The prime minister compared himself to a tin-pot dictator and was accused of inciting hatred. After some of the ugliest scenes ever seen in Parliament, an investigation into "poisonous culture" was called for in Westminster.
The day was September 25, 2019 and in the words of then spokesman John Bercow: "As an expression of parliamentary hostility, this day was in a league of its own. I had never directed anything like this before. "
The agreement
There were only a few members of the cabinet who had any idea of ​​Boris Johnson's intention to support Parliament.
Amber Rudd, then cabinet member in her role as labor and pension secretary, said she found this out through a text from Phillip Hammond – the former chancellor who was banked by Boris Johnson.
"I called a couple of my coworkers and said, 'Did you know about this? "Nobody but the inner cabal who responded to it."
The tall, slender figure of Jacob Rees-Mogg, leader of the Commons, had been spotted at Aberdeen Airport with other members of the Privy Council en route to the Queen in Balmoral.
A cabinet member thought ruefully, "If they hadn't sent Jacob and someone darker, it might have been that the Privy Council meeting had just taken place and neither of us would have been the wiser until after the event. The whole thing was a cloak and a dagger. "
Another former minister claims that not only did the cabinet jump in, but the sovereign as well.
A morning cabinet visit was quickly organized to brief the team.
"Every cabinet minister knew that it was actually a maneuver to prevent Members of Parliament from passing a law so that we (the EU) couldn't leave on October 31st without an agreement," recalls Ms. Rudd.
"Everyone knew it was a maneuver and everyone was asked to say something different."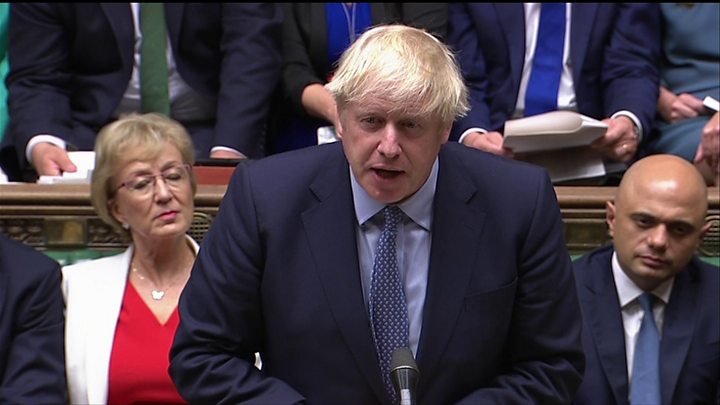 Nicky, now a baroness, and Morgan, then cultural secretary, had gotten out of hand too.
"I was speechless. It was basically seen as a nuclear option.
"I did not object to this call, but others did. I did it in other ways and at other meetings.
"But I think the Prime Minister was right. He had to try many different ways to get things moving. At that point the EU's eyes were on the UK. The UK government needed to show that we would take all measures to achieve this. to show that we are dead serious. "
The move represented a government ready to look at all options to get Brexit over the line.
"I remember Jacob (Rees-Mogg) saying he was ready to watch every maneuver," says Amber Rudd.
"He once told the Cabinet that he was looking into the possibility of the spokesman's impeachment to see if he could have some maneuver to prevent new amendments from being passed to curtail preparations for a deal."
The judgment
When Lady Brenda Hale made her withering assessment that "Parliament did not pass," Boris Johnson was 3,500 miles away watching the verdict from the Westin Hotel in Times Square, New York City.
The travel plans were hastily changed to bring him back to Westminster when the prime minister was brought over on a phone call to a select group of cabinet ministers and advisers. They'd been sitting in Conference Room 1 at 70 Whitehall and lowering their jaws when they saw the Supreme Court ruling on a big screen.
"He wasn't hurt, just angry," said one of those present.
"He was warned against criticizing the judiciary directly. Had he gone to war with the Supreme Court at that moment, it would have turned drama into crisis. "
In the eventual public statement by Boris Johnson that morning, disregarding the court, it was said that he "disagreed" with her judgment.
Meanwhile, spokesman John Bercow was standing in front of the television cameras and announced that MPs on "leave" would be back in parliament the next morning. For Labor, this meant cutting part of their Brighton convention to get everyone back.
While the MPs slept before their return, the Prime Minister was in New York to attend a Commonwealth reception where he joked the delegates about his ill-disciplined Jack Russell and spoke to the United Nations General Assembly about the dangers of artificial intelligence and " without limbs "spoke chickens".
His RAF Voyager plane finally took off from JFK Airport around 4:00 a.m. GMT – herb steak and New York cheesecake were served to the prime minister before he turned a blind eye.
When he flew back, the WhatsApp groups of the so-called "Remain Alliance" members lit up with everyone involved and asked: "What should the strategy be?" – The first message that day comes at 4:50 AM BST.
Some wanted to overthrow the government, others wanted to take control of the order papers to pass more laws, others sought valuable Brexit documents from the government.
But with so little notice it turned out they had no time to devise a plan and the day began instead with a series of urgent questions and ministerial statements.
Geoffrey Cox
As the Commons got under way at 11:30 a.m. ET, Spokesman John Bercow recalls that the opposition is "solemn and condemning a government that has lost the court case."
First up was Attorney General Geoffrey Cox. As the man who oversaw the government's lawyer during the trial, parliamentarians wanted to know what advice he had given the prime minister regarding the deal.
Julian Smith, the Northern Irish secretary at the time, and Amber Rudd had both failed to ask to see it.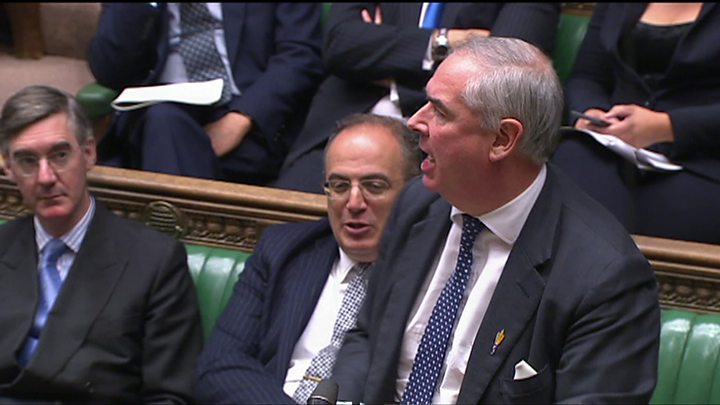 "I didn't call for Geoffrey Cox's head on a plate," says Joanna Cherry of the SNP, whose urgent question the Attorney General had put in the shipping box.
"I was a little suspicious that this (legal advice) was being made publicly available by Dominic Cummings or someone like him in order to discredit Geoffrey Cox, to blame him and to take the political heat away from the Prime Minister. I have tried to get into politics, which is going on in the heart of this government. "
Although she did not request that Mr. Cox resign, there were many. But the Attorney General resisted and turned against Parliament.
His arms flapped wide – and in what Amber Rudd describes as the "Brian Blessed voice" – he said Parliament was "dead" and had "no moral right to sit on those green benches".
He turned up the volume and continued.
"Twice they have been asked to let the electorate decide while sitting in their seats blocking 17.4 million votes. This parliament is a shame.
"But it is time, Mr. Spokesman, when even these turkeys cannot prevent Christmas."
At this point the government did not have a majority, it had rejected its election application twice by the opposition, it had not yet concluded a deal with the EU and was in danger of being trapped in the lower house by the laws of its opponents.
But the ministers stuck to their line – parliament blocked Brexit.
John Bercow said he found Geoffrey Cox's performance unimpressive.
"The dividing line between oratorical brilliance and mere self-parody and descent into obvious absurdity – not just self-parody, but almost self-caricature – is thin. But that dividing line exists, and my personal view was that Geoffrey fell on the wrong side of the line.
"Yes, he was articulate, yes, he had a very good vocabulary, yes, he was fluent, but I'm afraid it became so exaggerated and frankly so obvious, medal-winning, pompous and even important, that it made him look and sound, to be honest, just absurd. "
Mr Cox himself later admitted that "I may regret losing my temper in the House, but I do not regret the feelings I expressed and which resonated in the country."
Boris Johnson
If the Attorney General was the warm-up, then the Prime Minister was the main event.
When Boris Johnson got up at 6:30 p.m. ET to face a jam-packed Commons, those expecting remorse, remorse, or copious apologies were deeply disappointed.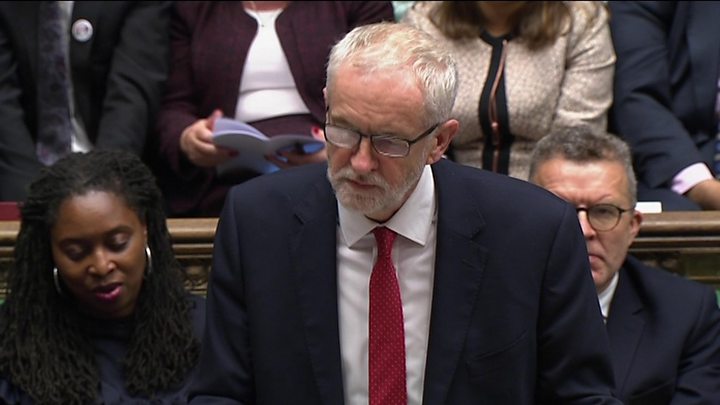 He struck down the call to resign, trying to get opposition MPs to have the "courage" to cast a vote of confidence and bring him down, which sparked enthusiastic applause from those behind it, including former Conservative leader Iain Duncan Smith. who said, "Boris Johnson is an oral pugilist after all, he has the body shape of someone who is a fighter. That is how he took up this debate. "
But there was one term – used 15 times in total – that made opposition MPs particularly angry: the Surrender Act.
It was used by the government to characterize the EU Withdrawal Law (No. 2) – also known as the Benn Law – which was passed by opposition MPs before Parliament was passed. It forced the government to request an extension of the EU until the Brexit departure date if an agreement had not been concluded by a certain date.
"I tried very hard not to use it," says then cabinet member Nicky Morgan.
"I thought there were other ways to set up a take-back agreement, but I wasn't the one designing the campaigns."
Government critics believed that such language, as well as the tone previously coined by Geoffrey Cox, were part of a concerted campaign before any general election aimed at pitting Parliament against the people – an attempt to use the Johnson administration as the the last remaining to represent a bulwark against a remaining parliament trying to reject the result of the 2016 referendum.
A cabinet minister said: "There were two options that day – either go in and apologize excessively and boringly like trench water, or you come out fighting. Boris Johnson's instinct was to fight – and keep using a twist that was cut through by the public, whether they liked it or not. "
Paula Sherriff
For beleaguered MPs, some of whom faced death threats and abuse almost daily, this "derogatory language", whether intentional or not, made their lives harder.
When Paula Sherriff, Labor MP and constituency neighbor of the murdered MP Jo Cox, stood up, she asked the Prime Minister to tone him down.
"We are under the protection of our late friend here, and many of us face death threats and abuse every day in this place. Let me tell the Prime Minister that he often quotes his words "act of surrender", "betrayal", "traitor" and I am fed up with it anyway. We have to moderate our language and it has to come from the Prime Minister first. He should be absolutely ashamed. "
His answer: "I've never heard such humbug in my entire life."
There was an uproar.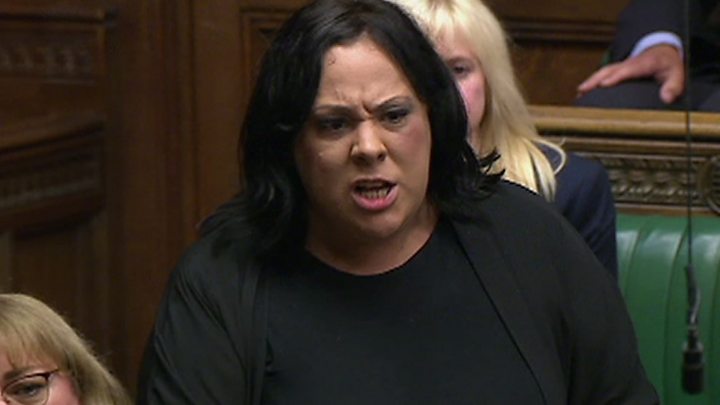 After a year, Paula Sherriff says she was "appalled" by the Prime Minister's reaction at the time and is still so today.
"There was real fear. People said, "Oh, you screamed like a Pisces woman," but I say to these people, "How would you feel if you received emails every day about being shot or hung from a lamppost ? " a day and imagine what that feels like.
"And I absolutely hold the prime minister responsible for some of them – not all of which are obvious – but unfortunately if you quote the prime minister directly, let him lead by example."
There were shouts of shame from the opposition, but Speaker Bercow decided not to intervene.
"I found the prime minister's answer to be surprisingly insensitive. However, an amazing insensitivity is not necessarily disorderly behavior."
The Prime Minister's defense lawyers believe that he and Paula Sherriff spoke to each other and passed each other in the cacophony of the noise in the chamber. While some Tory MPs believe Labor MPs came to the Chamber determined to personally chase the Prime Minister, this was their dislike of him.
Jo Cox
But the controversy was far from over.
As the statement continued until late in the evening, Tracy Brabin, the MP who succeeded the murdered MP Jo Cox, referred to her predecessor when she asked the Prime Minister to cease and desist from his inflammatory language.
"The best way to honor the memory of Jo Cox, in my opinion, is to complete Brexit," was his reply.
One MP shared her own tears and the tears of others, another said she had been contacted by Jo Cox's family, who were distraught about the scenes in the chamber that evening and heard their loved ones mentioned.
Dominic Grieve, the former Conservative attorney general who was kicked out of the party by Boris Johnson, said he found the prime minister's performance "appalling" that evening.
"It seemed to imply that the best way to avoid the death threats is for you to do what I say."
Just as Brexit split families across the country, it split the Johnson clan with his sister Rachel, who deciphered her brother's behavior.
"My brother, who uses words like surrender, surrender" as if the people who stand in the way of the blessed will of the people in the sense of 17.4 million votes in 2016 are being hung, pulled, quartered, tarred and feathered should. And I think that's very reprehensible language. "
For the Prime Minister – as he said that evening – "no made-up indignation or synthetic indignation" of his opponents would deter him in his central mission to achieve Brexit.
After that bloody parliamentary session, Boris Johnson tried to leave the chamber only to be admonished by the speaker. "Go and sit down," he said to him, and many MPs were still trying to put a point of order directly to the Prime Minister.
But the presidency was ignored and the prime minister left and later sent text to Mr Bercow saying he did not intend to be rudeness.
"It was contemptible," says John Bercow now. "The Prime Minister didn't care. The post-hoc rationalization of his position with this rather superfluous text was therefore completely unconvincing."
"Do the Brexit"
A year later, we know what happened next. One election, a conservative majority of 80 seats and Brexit reached – at least the first stage.
The Prime Minister's team will suggest that their approach was the right one and that he was on the side of the public.
Sir Iain Duncan Smith claims the way Parliament vented on September 25, 2019 reflected the frustration in the country.
The problem had to be resolved once and for all: "This debate was a moment of departure."
A Cabinet Minister admits, "It was horrible to go through at that time – it was like a slow motion crash – but in the end all the pain and suffering was probably really necessary to get the public across the bigger point that Parliament had made of course and had to be replaced.
"Although it was very difficult and the parliamentary circumstances were terrible, it did not do any harm to Boris Johnson in the elections."
"On our doorstep we kept hearing the story that voters understood that the Prime Minister did everything to achieve Brexit – even suspend parliament."
Others, however, agree: "The fact that they won this election doesn't make it right. I thought it was a dangerous way of treating people," says former Cabinet Secretary Amber Rudd.
"This government assumes that the ends justify the means. It doesn't matter if it's the law, it doesn't matter if it's people, it doesn't matter if it's the quality of their life as long as we can get there. Where do you stop "
This day was the climax of the Brexit anger, when the divisions in the country were reflected in the angry exchanges on the green benches.
In terms of parliamentary drama – the arguments, the resentment and the resentment – Westminster has seen nothing like it.
Carolyn Quinn's "The Day Brexit Hit Boiling Point" will air on Saturday 26 September at 8:00 pm on Radio 4 and is available from BBC Sounds.