The Spanish government defended its response to the coronavirus pandemic when the country's mortality rate slowed for the first time in a week, insisting that its actions were always firmly anchored in scientific advice.
Spain has had 655 deaths from Covid-19 over the past 24 hours, for a total of 4,089, the health ministry said on Thursday. The number of confirmed cases is 56,188.
The numbers gave a glimmer of hope a day after the country had one of the world's highest one-day deaths from the pandemic at 738, and its total number exceeded that of China. The number of cases worldwide exceeded 500,000 on Thursday.
Spanish Foreign Minister Arancha González Laya admitted that some things could have been done differently, but said that the nationwide "alert" and blockade imposed on March 14 were beginning to show results.
"It's an unprecedented (crisis) in depth and breadth," she told the Guardian. "We have seen pandemics in the past, we saw Ebola for example, but it was much more local. We saw Sars, but it was much more local. The impact on a global level was much less, and Ebola focused on countries with extreme levels weak health care facilities and systems.
"But this is about a pandemic that will hit the world's best-prepared countries hardest."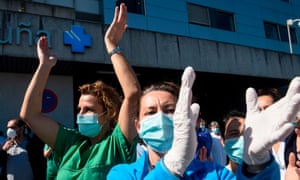 González Laya said governments around the world are facing questions about how to deal with the crisis, but Spain has always based its answer "not on panic, not on feelings, but on science".
When asked if it was not a big mistake to let hundreds of thousands of people take part in nationwide marches on International Women's Day on March 8, she said the change in the situation only became clear the following day.
"On March 9, a day later, scientists said," Oh, oh, things are getting worse, so you should change the alarm level now. "
González Laya also pointed out that different EU countries had chosen very different responses to the crisis. "The day we called for the alarm, we had 120 dead… and yet we declared the alarm and our neighbors didn't.
"Great Britain, the Netherlands and Sweden have decided to choose an anchor point that is very different from the Spanish one. You have opted for herd immunity. "
The previous Thursday, the Spanish parliament had approved the extension of the almost complete blockade of the country until April 11, and the head of the health emergency center, Fernando Simón, said recent death toll figures should be read with caution. "We don't know if this will be a trend, but to some extent it gives us some hope," he said.
González Laya said further lockdown extensions and more drastic measures could not be ruled out. "We have done what was required at every moment and we will continue on this path," she said.
Italy remains the most affected country with 7,503 deaths. The infection rate had slowed down four consecutive days before Thursday when it increased again.
Other countries are preparing for rapid case growth, and an estimated 1.7 billion people worldwide have been instructed to stay in their homes.
Hong Kong and Japan are concerned about a possible new wave of coronavirus cases. Tokyo Governor Yuriko Koike has asked residents to stay at home at all costs to avoid an "explosion" of infection.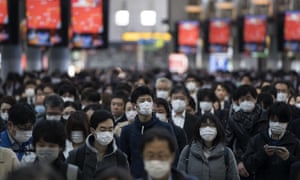 China, which was initially infected by the virus and now seems to be recovering, has announced it will close its borders to foreigners this weekend and limit foreign airlines to a route with no more than one weekly flight. Every Chinese airline is allowed to travel to a specific country with no more than one flight per week.
Russia announced on Thursday that it would close all restaurants, bars, parks, and non-essential stores, as the number of cases confirmed there had increased to 840. According to official information, three people have died.
Putin postponed a vote on constitutional changes that would allow him to stay in the Kremlin until 2036. He announced that next week would be a national holiday and asked the Russians to stay home. The government has also ceased all international air traffic, except flights to return Russian citizens, and has instructed the military to set up 16 medical centers to treat victims of the virus.
In Brazil, former President Luiz Inácio Lula da Silva called for the resignation or indictment of Jair Bolsonaro and added his voice to criticism of the current president's response to the pandemic. The virus has killed at least 59 people in Brazil and infected more than 2,500 people, but Bolsonaro has repeatedly dismissed the disease as fantasy and media "hysteria".
WHO chief Tedros Adhanom Ghebreyesus said the time to act was a month or two ago. "We missed the first window of time … this is a second opportunity we shouldn't miss," he said.
The World Trade Organization said the economic downturn and job loss due to the pandemic could be worse than the 2008 recession said The economists expected a "very sharp decline in trade".
Economist Nouriel Roubini has described the financial shock of the virus as the fastest and deepest in history.
In the United States, where more than 1,000 people have died and there are more than 55,000 confirmed cases, the Senate has adopted a $ 2 billion (£ 1.63 billion) emergency relief package, the largest bailout agreement of its kind in history of the country.
While most of the funds go to businesses, the bill will expand unemployment insurance and provide direct relief for adults of up to $ 1,200, a $ 367 billion fund for small businesses, and $ 130 billion for hospitals. A record 3.3 million Americans filed for unemployment last week, as announced on Thursday when the pandemic brought large parts of the economy to a standstill.
Secretary of State Mike Pompeo was rejected by other G7 members when he argued that the pandemic should be described in a joint statement by the group as the "Wuhan virus," CNN reported. Donald Trump has often called it "the Chinese virus".
According to state governor Andrew Cuomo, New York has become a virus hotspot, with infections doubling every few days. The virus has claimed 280 lives across the state.
In other developments, Afghanistan has reported five new cases in the past 24 hours, increasing the number to 84, including four members of the NATO armed forces and two foreign diplomats.
The UK government said Prince Charles had not received preferential treatment by getting a coronavirus test in front of many NHS workers.
The Iranian Ministry of Health said the death toll from the virus has increased by 157 to 2,234 over the past 24 hours, the semi-official news agency Fars said.
According to Reuters, a redeveloped city park in Lisbon has been turned into a temporary drive-through clinic for five-minute swab tests. Portugal has reported 3,544 confirmed cases of the virus and 60 deaths.
(tagsToTranslate) Coronavirus outbreak (t) Spain (t) Italy (t) Hong Kong (t) Japan (t) Russia (t) US News (t) China (t) Afghanistan (t) Iran (t) Lebanon (t )) Europe (t) World News (t) Asia-Pacific (t) Middle East and North Africa (t) South and Central Asia



Source link