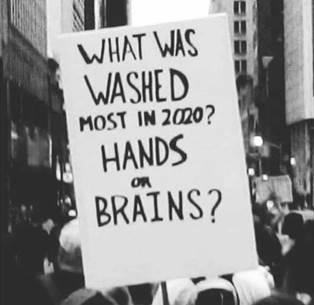 Private law enforcement hired Parliament's top legal team
https://www.thebernician.net/private-criminal-prosecution-of-parliament-top-legal-team-engaged/
Yesterday afternoon we received confirmation that the partners in the law firm with whom we are talking about Parliament's private prosecution are all in agreement – an argument that can be won despite the hurdles that we must overcome.
This means that we are now proceeding with the preparation of the court records, including an affidavit containing all allegations of fraud, treason and genocide against any MP who voted to enact and uphold the unlawful 2020 Coronavirus Act.
It will be the first time since the aftermath of World War II that allegations of treason have been made, while genocide is a crime under international law and those allegations will almost certainly be dealt with in The Hague.
Listen to the interview with Mark Devlin
(embed) https://www.youtube.com/watch?v=w9pm3Z6nFnk (/ embed)
The PCR Test – UK Official Document As of June 2020
https://assets.publishing.service.gov.uk/government/uploads/system/uploads/attachment_data/file/895843/S0519_Impact_of_false_positives_and_negatives.pdf
It is important to remember that laboratory tests verify the analytical sensitivity and specificity of the RT-PCR tests. They represent idealized tests. In a clinical or community setting, inefficient sampling, laboratory contamination, sample degradation, or other sources of error can occur that lead to an increased number of false positives or false negatives. The diagnostic sensitivity and diagnostic specificity of a test can only be measured under operating conditions.
YouTube Channel Cull …
The censorship seems to be increasing … but of course Google / YouTube have enormous power in this area: Destroying the Illusion, Redpill78, PrayingMedic, Joe M, IPOT, X22 report, Edge of Wonder, SGT report, Spaceshot76, WokeSocieties, Amazing Polly, Truth & Art TV, PatriotsSoapbox, Dustin Nemos, InTheMatrixxx, AndWeKnow, Stroppy Me, JustInformed Talk
According to the WHO document, contact tracing should never be used.
Many thanks to Jonathan for this link and the info:
https://apps.who.int/iris/bitstream/handle/10665/329438/9789241516839-eng.pdf#page=9
Read the last entry in the following table carefully …
Not pharmaceutical Public health actions to reduce the risk and impact of epidemics and pandemic flu
Where did this idea come from?
People's Brexit – Judicial review filed
Please read the detailed justification (see below on the case page). We are now fighting for the return of YOUR rights and YOUR freedoms that this occupying government has taken away! Also to prevent them from taking even more away from us and destroying more companies and jobs.
https://www.crowdjustice.com/case/the-coronavirus-act-2020/
It is 75 pages long (see below). Please read everything as you will be amazed at the deception and abuse of the law and our rights and freedoms. All of this is based on fake tests for a so-called virus, the existence of which has not even been proven!
Please support us and help us promote and publicize this legal measure that will save lives and our future and free us from this tyranny.
https://drive.google.com/file/d/1buADyyFmKuddAeCloRXQuLGI0a_kStKM/view
Open letter to the UK Government, the governments of the world and the citizens of the world
Lots of links and evidence of the scam – from an expert group.
https://worlddoctorsalliance.com/
Connecting the dots: the big reset and the fourth industrial revolution
What's really going on? More excellent research from Dave Cullen – detailing what COVID scam is really about.
https://www.youtube.com/watch?v=O31AfWoBfaI
(embed) https://www.youtube.com/watch?v=O31AfWoBfaI (/ embed)
The houses of the French health minister and ex-prime minister searched by the police as part of the coronavirus investigation
https://www.rt.com/news/503583-france-health-minister-home-raided-coronavirus-probe/
French police raided a number of prominent politicians, including the former prime minister and the current health minister, as part of an investigation into the government's handling of the coronavirus pandemic at dawn.
The extraordinary development came after doctors, Covid-19 patients, police officers and others filed an unprecedented number of complaints about equipment shortages and other issues, prompting a special court to initiate an investigation into how the government was handling the crisis.
The French Ministry of Health confirmed that the home and offices of Health Minister Olivier Veran, as well as the homes of former Prime Minister Edouard Philippe and Veran's predecessor Agnès Buzyn, were searched Thursday morning.
Is this leaked information really Trudeau's insane COVID plan for 2021? You decide …
This can have substance. Canadian government. Person wouldn't answer the question and sounded a little nervous to me … https://www.youtube.com/watch?v=AzWLlfwfD4Y
Is this leaked information really Trudeau's insane COVID plan for 2021? You decide …
Service provider for Federal Quarantine / Isolation Sites (6D112-202772 / A)
https://buyandsell.gc.ca/procurement-data/tender-notice/PW-ZL-105-38463
The Government of Canada (GoC) is considering hiring a third party federal quarantine / isolation site provider that will be used to house and care for people for public health purposes and other related state requirements with the COVID-19 pandemic response. The government is soliciting feedback from current service providers on possible options for getting up, operating and managing all services associated with these locations. The purpose of this request for information (RFI) is to gather feedback from potential service providers in order to develop a strategy for the future future management of these websites.
Another relevant document: https://covid-19-htrs-public.s3-us-west-2.amazonaws.com/CanadaQuarantineProgramSolicitation.PDF