Matic just announced that Tether is now available on its network. The Matic team tweeted that this would help Ethereum immensely by diverting activity away from the main chain.
1 / The industry's leading stablecoin Tether (USDT) is now available on Matic Network Layer2 to help overcome Ethereum's performance limitations! 🚀$ USDT is the industry's most popular stablecoin with an astonishingly high market cap of over $ 15 billion. pic.twitter.com/M38KtnaXym

– Matic (@maticnetwork) September 28, 2020
Last month, daily Ethereum fees hit an all-time high with a fee of $ 8.6 million for August 13, 2020.
Industry observers have attributed the problem to "DeFi Mania," which they believe is clogging network capacity and driving up gas prices.
Users have drove to social media to share personal anecdotes about excessive gas charges.
The situation has got to the point that last week, Coinbase Pro announced that they would no longer cover the costs. Instead, they will pass the fee on to customers in the future.
"In the past, Coinbase Pro covered these fees on behalf of our customers. However, as crypto has spread more widely in applications like DeFi, payments, and other projects, networks have become busier."
Matic Network goes on "Stablecoin Spree"
With that in mind, Matic's announcement is welcome news for Ethereum users struggling with high gas fees.
The Company explained the benefits of using Tether on their network in terms of faster transactions and the cost savings it brings.
"By using Matic, users can send USDT on Ethereum at lightning speed for a fraction of the cost of gas fees. Not only will this provide a superior UX, but it will also help with Ethereum's congestion crisis by offloading the main chain."
Dai is already available in the Matic network and has been available since 2018. However, in the past 24 hours, Matic has also announced the integration of the second largest stable coin by market capitalization. USDC.
"Continuation of our stable coin Spree, $ USDC is now available on the Matic Network for smooth transfers #PoweredByMatic! USDC is a US dollar backed stablecoin managed by a consortium called Center that was founded by @circlepay and including leading crypto exchanges @coinbase. "
However, it's the integration of Tether that makes the biggest difference in addressing Ethereum's "performance constraints".
In the past 24 hours, the USDT volume was $ 42 billion, which is $ 400 million higher than the USDC volume. Also, as the most paired stablecoin, Tether has the greatest reach of crypto users.
A look at Etherscan's gas tracking tool also reveals that Tether has been the second largest gas eater in the past 24 hours.

Top 5 gas guzzlers on the Ethereum network. (Source: etherscan.io)
As such, some would say that bringing Tether to the Matic network was a stroke of genius.
But will users take it up? And more importantly, will this be the catalyst driving the MATIC price up?
So far, the markets have not responded to the news. Currently the price for MATIC has risen by almost 2% to USD 0.019.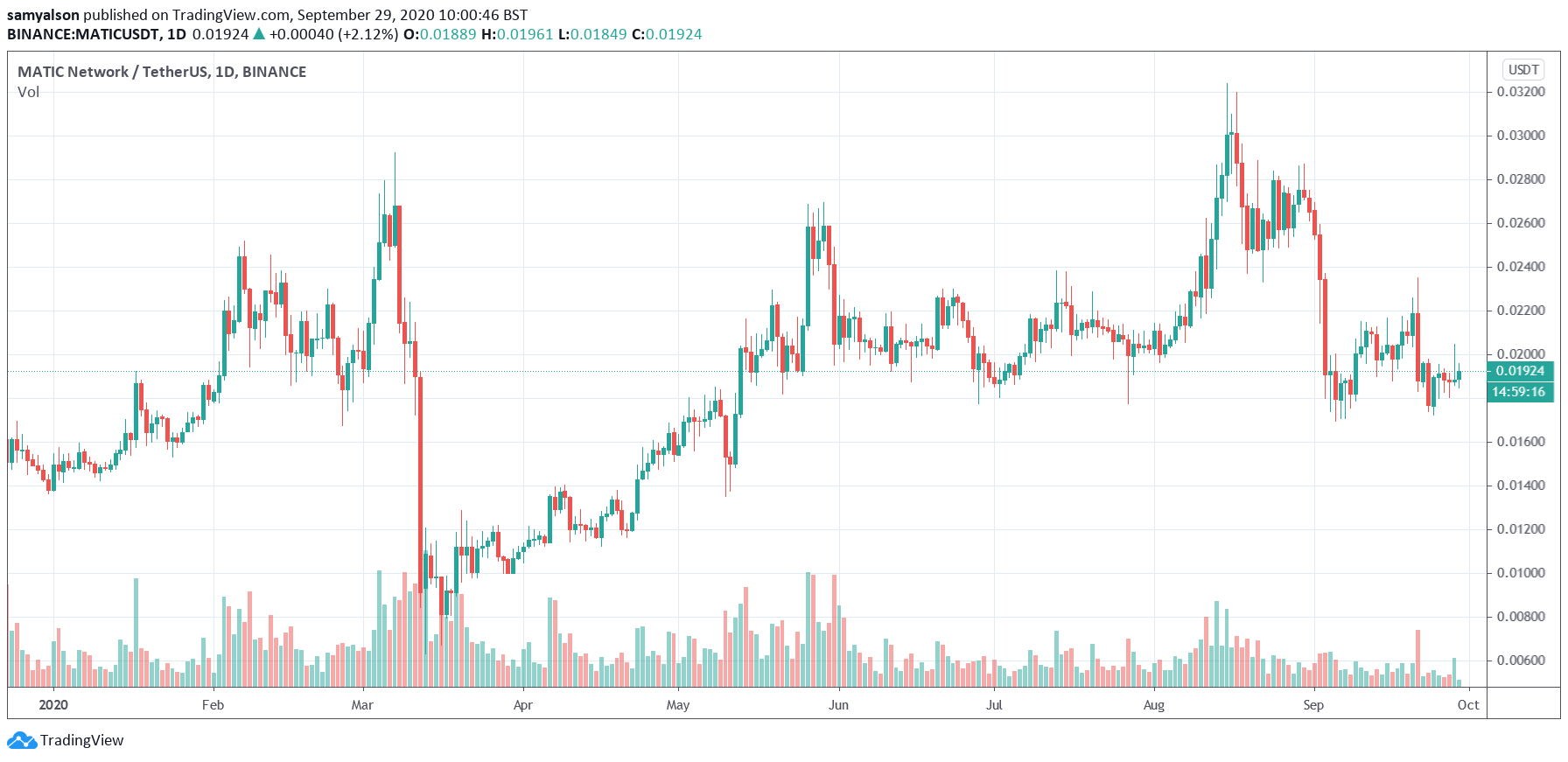 MATIC daily chart YTD with volume. (Source: tradingview.com)