At the lower end of the A14 in East Anglia, attitudes towards the development of big box warehouses have changed.
Phil Dennis, Director, Commercial at Savills, explains: "It used to be very much about churn, and new stocks weren't of any size. It was assumed that the demand was not there. "
However, Nic Rumsey, MD from developer Jaynic, says there is a combination of reasons why all of this has changed. He notes that, first, the improvement of A14 has massively improved accessibility.
Second, the strategy has changed for port companies trying to set up short-range facilities beyond the Orwell Bridge, possibly due to manufacturing issues related to Brexit and more onshoring, and eventually exponential growth in e-commerce and subsequent demand for more storage space .
"In addition, there is a lack of sensible locations in the traditional A14 corridor area between the A1 / M1, so residents are looking for space elsewhere."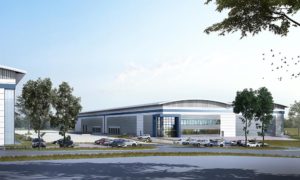 Because of this combination of factors, Dennis says: "We see an increase in new systems, especially in Suffolk with Port One, Eastern Gateway, Suffolk Business Park and Gateway 14 – now there is an opportunity to build large sheds there has never been before . "
Jaynics Suffolk Business Park in Bury St. Edmunds has been one of the most successful projects to date. The project, which leased 147,000 square feet to Unipart last year, has now secured planning for the second phase, which will include another 367,000 square feet in four buildings.
The second phase of the 114-acre storage units includes 367,000 square feet in four 37,000 square feet, 80,000 square feet, 100,000 square feet, and 150,000 square feet units, respectively. Letting agents are Hazells Chartered Surveyors, Bidwells and Savills
For even larger units, users can now consider options for the 2.3 million square foot Gateway 14 industrial and logistics system in Stowmarket, Suffolk, where a master plan currently being developed allows a single unit of up to 1 million square feet.
By the end of 2020, a planning application will be submitted to allow gradual development on the website by developer Jaynic. It is hoped that the first buildings will be available in 2021/2. Gateway 14 Ltd is a wholly owned subsidiary of the Mid Suffolk Council. Avison Young and Rapleys are common agents.
Ben Oughton of Jaynic says: "Despite the current health crisis, there is strong evidence that there is still significant demand for well-located logistics warehouses (in this region).
Big box warehouses are not the only thing in demand, says George Dickens, Changcerygate: "Most of the development in East Anglia in recent years has been concentrated on larger units, so we made the strategic decision to develop 19 units in a row with Sizes from 2,052 to 51,0111 square feet at a 145,000 square foot location in Ipswich called the Cranes Business Center.
"It will be one of the few multi-unit condominium systems in the region, with the vast majority of developments along the A14 typically limited to larger units that are only available on a lease basis."