The GBPUSD pair is off the intraday highs as the internal market law controversy continues. GBPUSD is now trading at 1.28969, or about 27 pips from the intraday highs as the intraday sale of the US dollar allows the stricken pound to gain ground as it seeks to close for the second straight day do. This is because fears of a no-deal Brexit are reaching a crescendo within less than four months before the end of the transition period.
The controversial law on internal markets has completed first reading in the UK House of Commons. The controversial law violates aspects of the Brexit withdrawal agreement and has warned the EU that passing the law would mean the end of negotiations. which would inevitably lead to a no-deal Brexit. This situation presents a significant headwind to any pound advance which, given the circumstances, can only be temporary.
So far, the pound has received some intraday boost from positive numbers of the Claimant. The number of entitlements to unemployment benefits was lower than expected (73.7 thousand, compared to a consensus of 100,000 thousand). A downward revision of last month's number from 94.4,000 to 69.9,000 added sentiment.
Investors forego aggressive bets, however, as key FOMC and BoE interest rate decisions are due this week.
Technical outlook for GBPUSD
GBPUSD's gains this week were due to a rebound in rising trendline support connecting the lows of May 18, June 30 and September 11, 2020. The upward move will challenge the resistance of the price level at 1.29469 (lows of 6 March and July 30th). Just a break above this level and the slight resistance at 1.29932 would allow GBPUSD to enter the path leading to 1.31754.
However, if bearish sentiment takes over again, 1.29469 can serve as a denial point for any further progress the pair makes, bringing in 1.28589 and 1.27558 as potential support targets. However, a breakdown of rising trendline support would allow sellers access to these price levels.
The FOMC and BoE rate decisions and statements would play a pivotal role in the pair's price move later this week.
Don't miss a beat! follow us on telegram and Twitter.
GBPUSD Daily Chart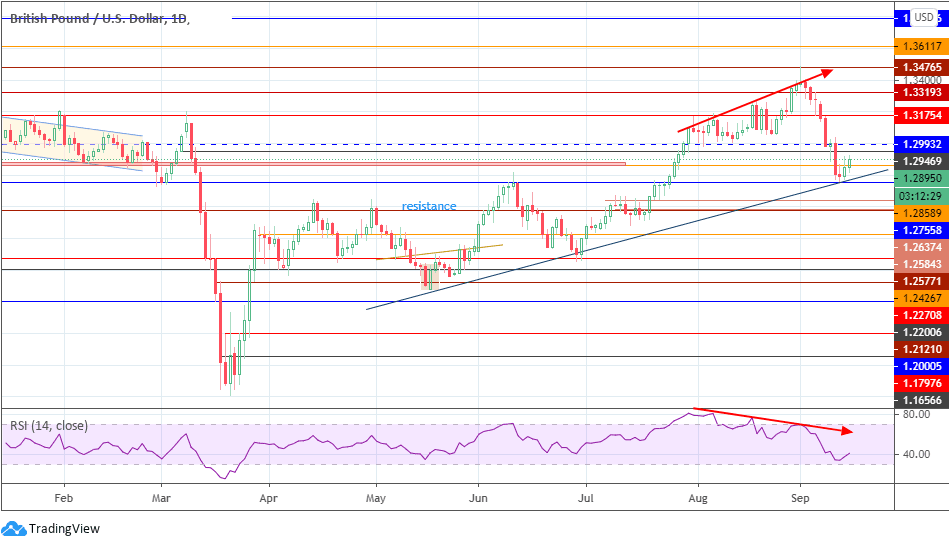 More content