Deeside.com> News
Sent: Monday June 29, 2020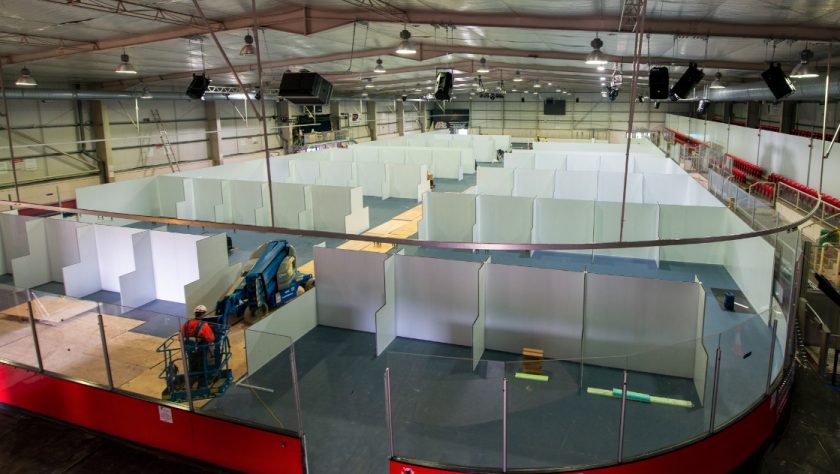 The future of three coronavirus field hospitals set up in North Wales is becoming clearer this week.
The so-called "rainbow hospitals" at Deeside Leisure Center, Queensferry, Venue Cymru, Llandudno and Bangor University were completed in April to provide additional beds for COVID-19 patients.
So far, however, they have not been required in most of the cases treated in the region's three main hospitals – Wrexham Maelor, Glan Clwyd and Ysbyty Gwynedd.
The Welsh government has carried out a review of field hospitals across the country, which was recently completed by officials.
While there is a possibility that some will be taken out of service, Health Minister Vaughan Gething said it is more likely that most would remain mothballed.
It came when he warned of the risk that a second wave of the virus could hit the health system in winter.
Questions about the facilities during a press conference North Wales and other regional media, Mr. Gething said: "I expect to make a statement next week, and both give us an indication of how we can use this capacity to support ongoing health care operations as we do. I want to go back start more normal activities.
"It will also allow me to make decisions about how much of that capacity we will keep mothballed, rather than being decommissioned in preparation for fall and winter.
"We always talk about preparing for winter and every year we have to do extraordinary things in healthcare because we care about a large number of really sick people who come into our system.
"This is a normal winter flu season, while we now know that the coronavirus will almost certainly still be in circulation."
Last week, two large oxygen tanks were installed at the Ysbyty Enfys / Rainbow Hospital site in Cymru.
It is understood that the 20-foot tanks would supply oxygen to patients recovering from the novel coronavirus strand if a second tranche of infections hit the area.
The hospitals could also be used to treat less serious cases that still require hospital treatment.
Mr. Gething confirmed that the complete removal of all field hospitals was not a sensible step due to the lack of a vaccine to immunize people against the virus.
He said, "Nobody should rely on the fact that there are effective antiviral treatments or a vaccine to save us from the difficulties of winter.
"We know from other parts of the world that where winter begins in other parts of the country, the corona virus is also increasing, so the risks are very real."
"So now we have to plan for winter as usual
"Nobody should expect our entire field hospital operations to be shut down.
"We should expect this to be the case, because the worst thing a government could do would be to dismantle these measures and then reconstruct them when a second wave actually begins."
Discovered something? Do you have a story Send a Facebook message | A direct message to Twitter | Email: News@Deeside.com