Before I even think about the performance or build quality of a new headset, my main concern is almost always comfort. It's not that I have an irregularly shaped head or anything (at least I think) or that my ears are particularly jug-shaped. Rather, I tend to either play or work on the PC for long sessions, and even the best headsets can get uncomfortable or overheated after a while.
Comfort made me stay with the EKSA E900 Pro 7.1 virtual surround sound gaming headset and even replace my Logitech G Pro X for now. They are so beautiful on my head that I forget that I am wearing them. The cups are incredibly soft, the upholstery has a shiny synthetic leather finish, which corresponds to the dark aesthetics.
They are red and black and pretty to look at. The LED indicator on each cup, which indicates that you've plugged in the USB port as opposed to the 3.5mm jack, is a strong red, which is a bit grim and aggressive for my taste, but then you can't see if you wear them and RGB is wasted on headsets unless you stream in them.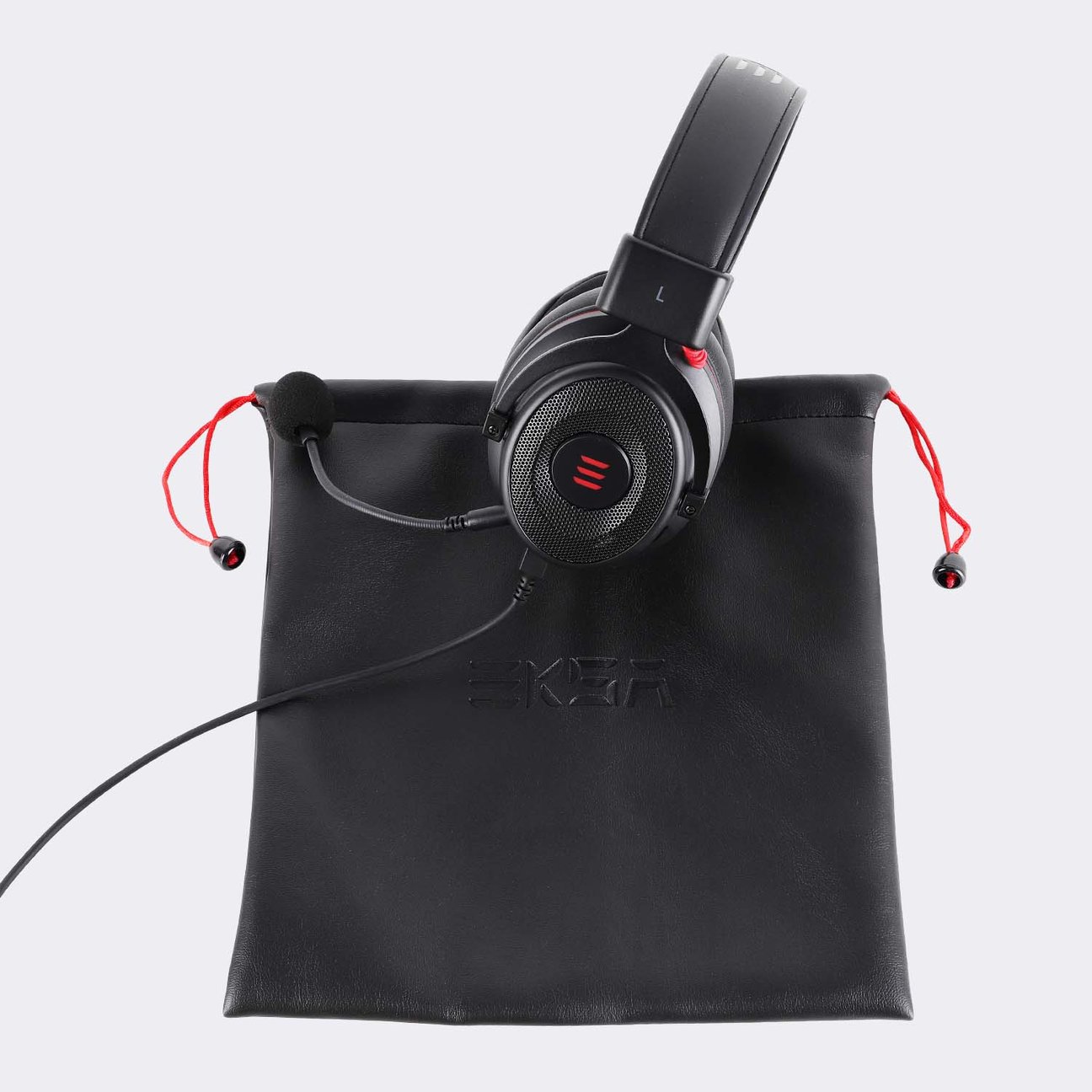 It's fair to say that you'll likely get more out of the E900 Pro when using it with a PC. I had no problems using the jack with PS4, Switch, Xbox One and even my phone – but the 7.1 surround sound element was really designed for the PC. The Cups are equipped with 50mm drivers, and games, music and media sound good on every platform I've tested, but you're sure to get better performance on a PC. I also tested the microphone on the Fortnite server and had no complaints. It is helpful removable. So if you don't play socially or just listen to music, it won't bother you.
The left cup has a practical volume control if you only have one hand free for a second but it doesn't get too loud. They're loud enough for most players, but I've found that when playing in a busy house, they still don't drown out all the noise – though that's probably the best thing.
If I were forced to choose between this headset and the Logitech G Pro X, I would probably choose the latter, but it would be a close affair. If you're a streamer whose equipment is meant to glow and dazzle, these are probably the better choices. In any case, the EKSA 900 Pro is a very nice headset that does not break the bank, but endures long sessions in the chair.
jQuery.noConflict ();
"use strictly";
//DOCUMENT.READY jQuery (document) .ready (function () { // hide various jQuery elements until they are loaded jQuery (& # 39; revolution-slider ul & # 39;). show (); jQuery (& # 39 ;. it-widget-tabs & # 39;). show (); // speed controller
if (jQuery.fn.cssOriginal! = undefined) jQuery.fn.css = jQuery.fn.cssOriginal;
jQuery (& # 39;. Revolution Slider & # 39;). Revolution ( { Delay: 7000, Starting altitude: 348. Starting width: 672,
hideThumbs: 200,
thumbWidth: 100, thumbHeight: 50, thumbAmount: 5,
Navigation type: "none", Navigation arrows: "Solo", Navigation style: "round",
navigationHAlign: "center", navigationVAlign: "bottom", navigationHOffset: 0, navigationVOffset: 20,
soloArrowLeftHalign: "left", soloArrowLeftValign: "center", soloArrowLeftHOffset: 20, soloArrowLeftVOffset: 0,
soloArrowRightHalign: "correct", soloArrowRightValign: "center", soloArrowRightHOffset: 20, soloArrowRightVOffset: 0, touchenabled: "on", onHoverStop: "on",
navOffsetHorizontal: 0, navOffsetVertical: 20,
hideCaptionAtLimit: 420, hideAllCaptionAtLilmit: 0, hideSliderAtLimit: 0,
stopAtSlide: -1, stopAfterLoops: -1,
Shade: 0, fullWidth: "off", fullScreen: "off",
});
// Super fish jQuery (& # 39; # top-menu ul & # 39;). superfish ({ hoverClass: & # 39; over & # 39 ;, Delay: 500, Animation: {Height: & # 39; Show & # 39;}, Speed: 160, disableHI: true, autoArrows: false }); jQuery (& # 39; # section-menu ul & # 39;). superfish ({ hoverClass: & # 39; over & # 39 ;, Delay: 300, Speed: 100, disableHI: true, autoArrows: false }); jQuery (& # 39; # sub-menu ul & # 39;). superfish ({ hoverClass: & # 39; over & # 39 ;, Delay: 500, Animation: {Height: & # 39; Show & # 39;}, Speed: 160, disableHI: true, autoArrows: false }); jQuery (& # 39; bar selector ul & # 39;). superfish ({ hoverClass: & # 39; over & # 39 ;, Delay: 400, Animation: {Height: & # 39; Show & # 39;}, Speed: 100, disableHI: true, autoArrows: false });
// Hide the scrollers until they are fully loaded jQuery (& # 39;. bar-slider & # 39;). show (); jQuery (& # 39; # steam & # 39;). show ();
// simplyscroll slider (standard carousel for IE8 and Opera) var isIE8 = jQuery.browser.msie && + jQuery.browser.version === 8; var isOpera = jQuery.browser.opera; // if (isIE8 || isOpera) { if (isIE8) { jQuery (& # 39; # top-ten-slider & # 39;). wrapInner (& # 39;
& # 39;); jQuery (& # 39; # Top Ten Slider & # 39;). Carousel ({ Interval: 3500 }); jQuery (& # 39; # trending-slider & # 39;). wrapInner (& # 39; & # 39;); jQuery (& # 39; # trending slider & # 39;). Carousel ({ Interval: 3500 }); } else { jQuery ("# ​​top-ten-slider"). simplyScroll ({ customClass: & # 39; the-bar & # 39 ;, Orientation: & # 39; horizontal & # 39 ;, Direction: & # 39; forward & # 39 ;, pauseOnHover: true, frameRate: 48, Speed: 2 }); jQuery ("# ​​trending-slider"). simplyScroll ({ customClass: & # 39; the-bar & # 39 ;, Orientation: & # 39; horizontal & # 39 ;, Direction: & # 39; forward & # 39 ;, pauseOnHover: true, frameRate: 48, Speed: 2 }); }} jQuery (". Sidecar"). simplyScroll ({ customClass: & # 39; sidecar-vertical & # 39 ;, Orientation: & # 39; vertical & # 39 ;, auto: false, manualMode: & # 39; loop & # 39 ;, frameRate: 48, Speed: 9 }); jQuery (". Steam content"). simplyScroll ({ customClass: & # 39; Steam & # 39 ;, Orientation: & # 39; horizontal & # 39 ;, auto: false, Direction: & # 39; forward & # 39 ;, manualMode: & # 39; loop & # 39 ;, frameRate: 48, Speed: 12 });
// jquery ui slider jQuery (& # 39 ;. form-selector & # 39;). slider ({ Value: 5. min: 0, max: 10, Step: 0.1, Alignment: "horizontal", Range: "min", animate: true, Slide: Function (Event, UI) { var valuation = ui.value;
jQuery (this). siblings (& # 39 ;. valuation value & # 39;). html (rating); }} });
// HD pictures if (window.devicePixelRatio == 2) { var images = jQuery ("img.hires"); // Loop through the pictures and make them high resolution for (var i = 0; i < images.length; i++) { // create new image name var imageType = images(i).src.substr(-4); var imageName = images(i).src.substr(0, images(i).src.length - 4); imageName += "@2x" + imageType; //rename image images(i).src = imageName; } } //add bootstrap classes to wordpress generated elements jQuery('.avatar-70, .avatar-50').addClass('img-circle'); jQuery('.comment-reply-link').addClass('btn'); jQuery('#reply-form input#submit').addClass('btn'); jQuery('a.featured-image').colorbox(); jQuery('.colorbox').colorbox(); jQuery(".the-content a(href$='.jpg'),a(href$='.png'),a(href$='.gif')").colorbox(); jQuery('.the-content .gallery a').colorbox({rel:'gallery'}); //placeholder text for IE9 jQuery('input, textarea').placeholder(); //functions that need to run after ajax buttons are clicked dynamicElements(); //menu hover fx menuHovers(); }); //applied to elements within ajax panels function dynamicElements() { //boxes mouseovers jQuery("#boxes .box-link").hover( function() { jQuery(this).siblings(".box-layer").stop().animate({ 'opacity':'0.75' }, 100); }, function() { jQuery(this).siblings(".box-layer").stop().animate({ 'opacity':'0.65' }, 300); } ); jQuery(".post-list .box-link, .steam .box-link").hover( function() { jQuery(this).siblings(".box-layer").stop().animate({ 'opacity':'0.5' }, 100); }, function() { jQuery(this).siblings(".box-layer").stop().animate({ 'opacity':'0.4' }, 300); } ); //trending mouseovers jQuery(".trending-link").hover( function() { jQuery(this).siblings(".trending-color").children(".trending-hover").stop().animate({ 'opacity':'1' }, 100); }, function() { jQuery(this).siblings(".trending-color").children(".trending-hover").stop().animate({ 'opacity':'0' }, 300); } ); //more link hover effect jQuery(".hover-link").hover( function() { jQuery(this).siblings('.hover-text').addClass("active"); jQuery(this).parent().find('img').stop().animate({ opacity: .3 }, 150); }, function() { jQuery(this).siblings('.hover-text').removeClass("active"); jQuery(this).parent().find('img').stop().animate({ opacity: 1.0 }, 500); } ); //review directory hover effect jQuery(".directory-panel .listing a").hover( function() { jQuery(this).parent().addClass("active"); jQuery(this).children('img').stop().animate({ opacity: .6 }, 400); }, function() { jQuery(this).parent().removeClass("active"); jQuery(this).children('img').stop().animate({ opacity: 1.0 }, 800); } ); //jQuery tooltips jQuery('.info').tooltip(); jQuery('.info-bottom').tooltip({ placement: 'bottom' }); jQuery('.info-left').tooltip({ placement: 'left' }); jQuery('.info-right').tooltip({ placement: 'right' }); //jQuery popovers jQuery('.popthis').popover(); //jQuery alert dismissals jQuery(".alert").alert(); //jQuery fitvids jQuery('.video_frame').fitVids(); //equal height columns equalHeightColumns(jQuery("#articles .panel")); equalHeightColumns(jQuery("#mixed .widgets")); equalHeightColumns(jQuery("#content .content-inner, #content-wrapper .widgets-wrapper")); } //call equal height columns when window is resized jQuery(window).resize(function() { equalHeightColumns(jQuery("#articles .panel")); equalHeightColumns(jQuery("#mixed .widgets")); equalHeightColumns(jQuery("#content .content-inner, #content-wrapper .widgets-wrapper")); }); //call equal height columns when main content is resized jQuery("#articles").resize(function(e){ equalHeightColumns(jQuery("#articles .panel")); }); //call equal height columns when mixed is resized jQuery("#mixed").resize(function(e){ equalHeightColumns(jQuery("#mixed .widgets")); }); //call equal height columns when main content is resized jQuery("#content .content-inner > div "). resize (function (s) { EqualHeightColumns (jQuery ("# ​​content .content-inner, # content-wrapper .widgets-wrapper")); });
// Call columns of the same height when the size of the sidebar is changed jQuery ("# ​​content-wrapper .widgets-wrapper"). resize (function (e) { EqualHeightColumns (jQuery ("# ​​content .content-inner, # content-wrapper .widgets-wrapper")); });
// Call up columns of the same height if the main menu items have been in submenus // hidden and have no heights up to visible jQuery (& # 39; body & # 39;). on (& # 39; mouseover & # 39 ;, & # 39; # section-menu-full a.parent-item & # 39 ;, function (s) { EqualHeightColumns (jQuery ("# ​​section menu full ul.term list, # section menu full li.post list")); }); // Columns of the same height Function equal toHightColumns (group) { highest = 0; width = jQuery (window) .width (); group.each (function () { jQuery (this) .removeAttr (& # 39; style & # 39;); thisHeight = jQuery (this) .height (); if (thisHeight> highest) { highest = thisHeight; }} }); if (width> 767) { Group height (highest); // alert (& # 39; it was running & # 39;); }} }} // Menu is floating Function menu Hovers () { jQuery (". menu .post-list a"). hover ( function () { jQuery (this) .children (& # 39; img & # 39;). stop (). animate ({opacity: .3}, 150); }, function () { jQuery (this) .children (& # 39; img & # 39;). stop (). animate ({opacity: 1.0}, 500); }} ); }} // Show search field jQuery ("# ​​menu-search-button"). click ( function () { jQuery (& # 39; # menu-search & # 39;). fadeToggle ("fast"); jQuery (this) .toggleClass (& # 39; active & # 39;); }} ); // Send form jQuery ("# ​​searchformtop input"). Key press (function (event) { if (event.which == 13) { event.preventDefault (); jQuery ("# ​​searchformtop"). Submit (); }} }); // Send the email registration form jQuery ("# ​​feedburner_subscribe button"). click (function () { jQuery ("# ​​feedburner_subscribe"). Submit (); }); // Show registration form jQuery ("# ​​sticky-login"). click (function () { jQuery (& # 39; # sticky-login-form & # 39;). animate ({ Height: & # 39; toggle & # 39; }, 100, & # 39; linear & # 39;); jQuery (& # 39; # sticky-register-form & # 39;). hide (); jQuery (& # 39; # sticky-register & # 39;). removeClass (& # 39; active & # 39;); jQuery (this) .toggleClass (& # 39; active & # 39;); }); // Show register form jQuery ("# ​​sticky-register"). click (function () { jQuery (& # 39; # sticky-register-form & # 39;). animate ({ Height: & # 39; toggle & # 39; }, 100, & # 39; linear & # 39;); jQuery (& # 39; # sticky-login-form & # 39;). hide (); jQuery (& # 39; # sticky-login & # 39;). removeClass (& # 39; active & # 39;); jQuery (this) .toggleClass (& # 39; active & # 39;); }); // Submit button hover effects jQuery (". sticky-submit"). hover (function () { jQuery (this) .toggleClass ("active"); }); // Send the registration form jQuery (". sticky-login-form #user_pass"). keypress (function (event) { if (event.which == 13) { jQuery ("# ​​sticky-login-form .loading"). show (); jQuery ("form.sticky-login-form"). animate ({opacity: "0.15"}, 0); event.preventDefault (); jQuery (". sticky-login-form"). Submit (); }} }); jQuery ("# ​​sticky-login-submit"). click (function () { jQuery ("# ​​sticky-login-form .loading"). show (); jQuery ("form.sticky-login-form"). animate ({opacity: "0.15"}, 0); jQuery (". sticky-login-form"). Submit (); }); // Register form submission jQuery (". Sticky register form #user_email"). Key press (function (event) { if (event.which == 13) { jQuery ("# ​​sticky-register-form .loading"). show (); jQuery ("form.sticky-register-form"). animate ({opacity: "0.15"}, 0); event.preventDefault (); jQuery (". sticky-register-form"). Submit (); }} }); jQuery ("# ​​sticky-register-submit"). click (function () { jQuery ("# ​​sticky-register-form .loading"). show (); jQuery ("form.sticky-register-form"). animate ({opacity: "0.15"}, 0); jQuery (". sticky-register-form"). Submit (); }); // Check password hide message jQuery (". check-password"). click (function () { jQuery (this) .animate ({ Height: & # 39; toggle & # 39; }, 100, & # 39; linear & # 39;); }); // Point back to the top arrow after scrolling the page jQuery (window) .scroll (function () { if (jQuery (this) .scrollTop () <150) { jQuery ("# ​​back-to-top"). fadeOut (); }} otherwise { jQuery ("# ​​back-to-top"). fadeIn (); }} }); // Scroll all # top elements up jQuery ("a (href =" https://www.godisageek.com/#top ")") .click (function () { jQuery ("html, body"). animate ({scrollTop: 0}, "slow"); return wrong; }); // show new articles jQuery ("# ​​new-articles .selector"). click (function () { jQuery (& # 39; # new-articles .post-container & # 39;). animate ({ Height: & # 39; toggle & # 39; }, 100, & # 39; linear & # 39;); jQuery (& # 39; # new-articles .selector & # 39;). toggleClass (& # 39; active & # 39;); }); // Sidecar mouseover jQuery (". Sidecar panel .sidecar link"). Hover ( function () { jQuery (this). siblings (". sidecar layer"). stop (). animate ({ & # 39; opacity & # 39;: & # 39; 0.70 & # 39; }, 100); }, function () { jQuery (this). siblings (". sidecar layer"). stop (). animate ({ & # 39; Opacity & # 39 ;: & # 39; 0.60 & # 39; }, 300); }} ); // sort mouseover jQuery (". sortable-hidden"). hover ( function () { jQuery (this) .children (". sort-button"). stop (). fadeIn ("almost"); }, function () { jQuery (this) .children (". sort-button"). stop (). fadeOut ("slow"); }} ); // Image darkening jQuery (& # 39; body & # 39;). on (& # 39; mouseenter & # 39 ;, & # 39; .darken & # 39 ;, function (s) { jQuery (this) .find (& # 39; img & # 39;). stop (). animate ({opacity: .3}, 150); }). on (& # 39; mouseleave & # 39 ;, & # 39; .darken & # 39 ;, function (s) { jQuery (this) .find (& # 39; img & # 39;). stop (). animate ({opacity: 1.0}, 500); }); // Minisite Cloud Tabs jQuery (& # 39; body & # 39;). on (& # 39; click & # 39 ;, & # 39; .section-button .sort-button a & # 39 ;, function (e) { jQuery (this) .parent (). Siblings (). find (& # 39; minisite-icon & # 39;). removeClass (& # 39; white & # 39;); jQuery (this) .children (& # 39; minisite-icon & # 39;). addClass (& # 39; white & # 39;); }); // Postnav mouseover jQuery ("# ​​postnav a"). hover ( function () { jQuery (this) .schildren (& # 39 ;. inner-content & # 39;). addClass (& # 39; active & # 39;); }, function () { jQuery (this) .s siblings (& # 39 ;. inner-content & # 39;). removeClass (& # 39; active & # 39;); }} ); // rate animations Function animateRating (pos, delay, eid) { jQuery (& # 39; # & # 39; + eid + & # 39;. rating-meter & # 39;). delay (delay) .animate ({ Opacity: 1, left: pos + & # 39;% & # 39; }, 2500, & # 39; easOutCubic & # 39;); }}
// pinterest (Function (d) { var f = d.getElementsByTagName (& # 39; SCRIPT & # 39;) (0), p = d.createElement (& # 39; SCRIPT & # 39;); p.type = & # 39; text / javascript & # 39 ;; p.async = true; p.src = & # 39; // assets.pinterest.com/js/pinit.js&#39 ;; f.parentNode.insertBefore (p, f); }(Document));
// Facebook (Function (d, s, id) { var js, fjs = d.getElementsByTagName (s) (0); if (d.getElementById (id)) return; js = d.createElement (s); js.id = id; js.src = "//connect.facebook.net/en_US/all.js#xfbml=1&status=0"; fjs.parentNode.insertBefore (js, fjs); } (Document, & # 39; script & # 39 ;, & # 39; Facebook-Jssdk & # 39;));
//WINDOW.LOAD jQuery (window) .load (function () {
// flickr jQuery (& # 39 ;. flickr & # 39;). jflickrfeed ({ Limit: 9. qstrings: { I would: & # 39; & # 39; }, itemTemplate: & # 39;
& # 39; + & # 39;& # 39; + & # 39;
& # 39; + & # 39;& # 39; + & # 39;
& # 39; }, Function (data) { });
// tabs - these must go to window.load for pinterest to work in a tab jQuery (& # 39 ;. Widgets-Wrapper .it-Clouds & # 39;). Tabs ({fx: {opacity: & # 39; toggle & # 39;, duration: 150}}); jQuery (& # 39; # footer .it-cloud & # 39;). tabs ({fx: {opacity: & # 39; toggle & # 39;, duration: 150}}); jQuery (& # 39 ;. Widgets-Wrapper .it-Social-Tabs & # 39;). Tabs ({fx: {opacity: & # 39; toggle & # 39;, duration: 150}}); jQuery (& # 39; # footer .it-social-tabs & # 39;). tabs ({fx: {opacity: & # 39; toggle & # 39;, duration: 150}});
// It sometimes takes a while for third parties (like Facebook) to run Function adjustColumnsDelayed () { EqualHeightColumns (jQuery ("# ​​articles .panel")); EqualHeightColumns (jQuery ("# ​​mixed .widgets")); EqualHeightColumns (jQuery ("# ​​content .content-inner, # content-wrapper .widgets-wrapper")); }} setTimeout (adjustColumnsDelayed, 1000) });
jQuery.noConflict ();